General Purpose Trousers
The general purpose trousers are available in 100% polyester twill, 100% polyester elastique, and 100% Dacron® polyester (Top Brass). The trousers are of a four pocket design, with gripper waistbands, bar tacking at stress point, wide belt loops and LibertyGuard® stain repellant finish.
All models can be braided (striped) in any of 8 lacquer finished braid colors. Fabric striping is also available (braiding and striping are extra cost options). We can also have your trousers hemmed. Sizes about 54 inch waist are available on special order. Please contact us with your needs.
Twill Trousers for Men & Women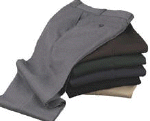 The 100% polyester twill trousers come in models for both men and women. They come in six colors for men, and three colors for women. Sized from 28 to 54 for men and 6 to 24 for women, in unfinished lengths.
[View and Purchase will Trousers for Men & Women]

Elastique Trousers for Men

The 100% polyester elastique trousers come in two solid (slate gray and midnight navy) and in two heather colors (forest green and French blue). They are sized from 28 to 54 for men (only).
[View and Purchase Elastique Trousers for Men]
Top Brass Gabardine for Men & Women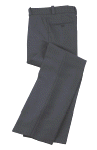 The 100% gabardine trousers are from Liberty Uniform's Top Brass label, and represent a high value, high quality product. The trousers come only in Midnight Navy (the LAPD color) and are available in sizes from 28 to 54 for men and 6 to 24 for women, all in unfinished lengths.
[View and Purchase Top Brass Gabardine Trousers for Men & Women]