AVAIL. in
BEAR
SIZES
Other Product
Pages:
Liberty Shirts
Uniform Trousers
Liberty Outerwear
Sweaters
Products
on this page:
Professional Job Shirt
Millenium Jacket
Fire Dept Jacket
Police Windbreaker
Other
Pages:
Military Uniforms
Liberty Uniform
Police Security EMT
Swat & EMT
JayPee Accessories
Hat and Caps
Belts
Branch Tapes
Shoulder Patches
Knife Catalog
Shoulder Bags
Duffles Bags
Sunglasses
Sundries
Surplus Gear from Uniforms Etc.
modified: 02 June, 2005
Liberty Uniform Jackets and Windbreakers

The FD Stationwear Jacket is the matching piece to the FD Stationwear trousers. It is made from 65/35 poly/cotton twill fabric and has an optional zip-out liner for cooler weather. Available in both regular and long lengths in sizes from SML to 4XLRG.
[View and Purchase Stationwear Jacket]


A premium jacket with special features for the police officer or security officer. Its fabric provides protection from wind and rain. Available in black and dark navy blue in sizes from 28 to 54 for men. Fully cut for wear over body armor.
[View and Purchase Millennium Jacket]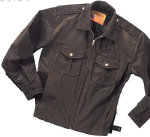 Nylon oxford windbreaker acrylic backed to help keep out the rain. Comes in three colors black, brown and navy blue. Optional removable quilted liner. Sizes from SML to 4XLRG with 6XLG available on special order.