AVAIL. in
BEAR
SIZES
Other Product
Pages:
Military Uniforms
Liberty Uniform
Police Security EMT
Swat & EMT
JayPee Accessories
Hat and Caps
Belts
Branch Tapes
Shoulder Patches
Knife Catalog
Shoulder Bags
Duffles Bags
Sunglasses
Sundries
Surplus Gear from Uniforms Etc.
Products
on this page:
Tri-Color DCUS
USA BDUs
Imported BDUs
Flightsuit Coveralls
Fatigue Caps
Boonie Hats
SWAT BDUs
SWAT Caps
Military Belts
Other
Pages:
Products Catalog
modified 02 Jun 2005
MILITARY UNIFORMS and ACCESSORIES
This is our on-line catalog of military uniforms, clothing, fatigue caps and related accessories.
BDUs (Battle Dress Uniforms)
Made to military specifications here in the U.S.A. Uniform pants and shirts are available in in multiple sizes and colors.
Flight Suit Coveralls
USAF style flight suit coveralls, with lots of pockets and 2-way front zipper; great for casual wear.

All kinds of belts (web, BDU, pistol)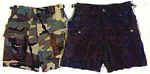 BDU and Hiking Shorts


Fatigue Caps
US Army and USMC style sized fatigue caps in black and camo.

Street Caps
The alternative to fatigue caps for street wear and work details in four colors and camo.