AVAIL. in
BEAR
SIZES
Other Product
Pages:
Military Uniforms
Liberty Uniform
Police Security EMT
Swat & EMT
JayPee Accessories
Hat and Caps
Belts
Branch Tapes
Shoulder Patches
Knife Catalog
Shoulder Bags
Duffles Bags
Sunglasses
Sundries
Surplus Gear from Uniforms Etc.
Products
on this page:
Liberty Shirts
Uniform Trousers
Liberty Outerwear
Sweaters
Other
Pages:
Products Catalog
modified: 06/02/2005
Liberty Uniform Shirts, Trousers and Outerwear
As of July 2003 we are pleased to offer most of the product lines from the Liberty Uniform Company. Some of the items will be kept in stock for quick delivery, others will be provided on a special order basis.
We will be offering long sleeve and short sleeve uniform shirts, trousers, sweaters, jackets, and EMS/EMT specific items. In addition to Liberty's value priced lines, we will also offer a higher priced line of "professional grade" uniform clothing. These are somewhat better suited to use by police and sheriff's department personnel.
|Uniform Shirts| |Uniform Trousers| |Outerwear|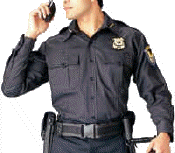 Liberty makes shirts in poly/cotton blends, all polyester and polyester/rayon blends (the Top Brass line).
Available in both long sleeve and short sleeve versions including extra long sleeve lengths.
Sizes range from Small to 4XLarge (6XL on some models).
Zipper plackets and two-tone treatments on pocket flaps and epaulets are available as options. [Learn more about Liberty Uniform Shirts Here]
General Features:
LibertyGuard™ stain repellent finish
Sewn-in military creases on front and back
Pleated patch pockets with scalloped flaps, Velcro™ closure
Sling badge tab
Epaulets with 'X' stitch
Lined collar, epaulets, flaps, placket

and cuffs (long sleeve model)

Permanent collar stays

(convertible on short sleeve shirts)

Extra button on shirt tail
The Liberty trouser line up consists of three general purpose trousers and three specialty trousers. (Click on any picture of trousers to go to that product page).
General Purpose Trousers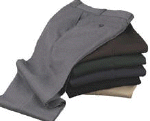 The general purpose trousers are available in 100% polyester twill, 100% polyester elastique, and 100% Dacron® polyester gabardine (Top Brass).
The polyester twill trousers come in models for both men and women.
All models can be braided (striped) in any of 8 lacquer finished braid colors. Fabric striping is also available (braiding and striping are extra cost options). We can also have your trousers hemmed.

Specialty Trousers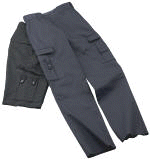 The specialty trousers are: the EMT/EMS trousers, the Fire Department "stationwear" poly/cotton trousers and the new FBI field trousers (coming soon).
Liberty Uniform manufactures a wide range of jackets, coats and windbreakers including those with linings (some removable). There is also a polyester duty sweater.
Jackets

The Stationwear Jacket is the matching piece to the FD Stationwear trousers. Comes in dark navy blue with an optional removable quilted liner for cooler weather.

A top of the line police duty jacket with a 3-ply nylon shell and water resistant treatment. Comes with a zip-out Thinsulate™ liner.
Police / Sheriff Dept. Windbreakers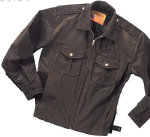 Wind and water resistant 100% nylon Oxford fabric in three colors: black, navy blue and brown. Available with an optional zip-out quilted liner for cooler weather.
Duty Sweater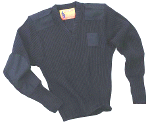 A traditional military/police sweater that is both comfortable and functional. In three colors and sizes to 5XLarge.
More to come.
|back to top| |Uniform Shirts| |Uniform Trousers| |Outerwear|