AVAIL. in
BEAR
SIZES
Other Product
Pages:
Military Uniforms
Liberty Uniform
Police Security EMT
Swat & EMT
JayPee Accessories
Hat and Caps
Belts
Branch Tapes
Shoulder Patches
Knife Catalog
Shoulder Bags
Duffles Bags
Sunglasses
Sundries
Surplus Gear from Uniforms Etc.
Products
on this page:
Uniform Shirts
Liberty Shirts
Tactical Shirts
Economy trousers
Uniform Trousers
Tactical Shorts
Tee & Golf Shirts
Economy hats
Batons
Logo Caps
Web Duty Gear
Other
Pages:
Products Catalog
Police, Security and E.M.T. Clothing and Accessories
In addition to our military BDUs and belts, and our Clifton Shirts, we have a selection of on- and off-duty shirts and pants more suitable for police, security and E.M.T. personnel when out in the field.
related accessories: batons, caps. web duty belts, JayPee accessories
S.W.A.T. Cloth™ BDUs in Black Finish

Made in the U.S.A. of an all season, poly/cotton ripstop fabric, these BDU pants and shirts are just like the ones currently in use in Federal agencies.
Tactical and E.M.T. Trousers and Shirts


Constructed to the same high standards of our military BDUs, and with many of the same features. Tactical (tuck-in shirts) have a neater appearance and the trousers have extra gear holders.
Economy Uniform Shirts and Trousers


Poly/cotton poplin uniform shirts in sizes from SML to XXLRG; both short sleeve and long sleeve models in Midnight Blue and White; texturized polyester shirts in long sleeve khaki.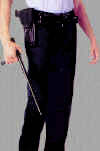 Polyester twill uniform trousers with wide belt loops; even waist sizes from 30 to 46; in Black or Midnight Blue;
Clip-on and Break-Away ties can be found on the Clifton and Economy shirt pages.
Fatigue Caps and Duty/Logo Caps

Web Duty Gear (Belts and Accessories)

An alternative to the JayPee leather duty belts and accessories, constructed of nylon or polypropylene web material. Light, water resistant, and very contemporary.
GI and USMC Nylon Web Pistol Belts
Perfect accompaniment to the SWAT Cloth BDUs
Leather Duty Belts and Leather Duty Gear


Quality and value from the JayPee line of leather belts and accessories.
Clip-on and Break-Away ties can be found on the Clifton and Economy shirt pages.

Monadnock polycarbonate batons and economy wood nightsticks. Also expandable batons.