On This Page:
[Up]
Categories:
[Blindfolds]
[Gags]
[Tit Clamps]
[Crops n Bats]
[Paddles]
[Whips n Flogs.]
[Men's Chastity Devices]
[Posture Collar]
Major Categories:
[For Him]
[For Her]
[the Dungeon]
[The Book Shelf]
[Special Combinations]
[Anal Toys]
[Bear Figurines]
[Candlesticks]
[Hiatt Darby Restraints]
[Bondage Gear]
[Discipline Gear]
[Police Restraints]
[Choker Chains]
[Locks]
[Snaps and Links]
[Gas Masks]
[Bondage/SM Videos]
modified: March 11, 2015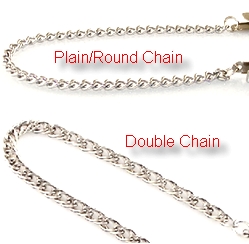 Nipple or Tit Clamps work for men and women. They can be considered as an arousing or erotic item, or as a discipline and pain producing item.
Nipple/tit clamps come in two basic adjustable types: those that can be loosened (e.g., alligator and barracuda clamps) and those that can be tightened (e.g., pincer clamps, press clamps, barrel clamps). The Butterfly or clover clamps kind of sit between these two types.

The styles come in different chain types: plain/round, double or rope (see illustration at right).

All clamps can have weights attached to them or too their chain; one type we sell has magnetic weights.
---
The harder you pull on them the tighter the grip becomes. Available as either a pair or as a three-way design with removable 3rd clamp. The clamps have attachment rings for weights.
Available in 3 chain styles (nomally 12 inches) including a longer, heavy rope style
These are completely adjustable with a ring that slides along the two prongs. Make then as tight as you want to, the ring won't slip. Works great on larger nipples or tits, since they can adjust to any size.
Also great for pierced nipples or tits since they can reach in behind the piercing or be attached to the ring see illustration.

Quality 12" chain and attachment rings .
| | |
| --- | --- |
| | Shorter version of an alligator clamp with soft rubber tips and screw adjustments for lessening the grip. Available as a pair with 12" chain or as a three-way design. Quality 12" chain and attachment rings . |
Press Clamps

(Spartacus and Fresh & Play)




Adjustable nipple clamps offer a range of pressures, for a variety of sensations. A good fit for practically any nipple, Press clamps offer a wide range of adjust-ability
Barrel Clamps

(Fresh & Play)



Adjustable nipple clamps that have a barrel fitting that rotates (takes 2 hands) to tight the rubber tipped clamps.
In black only.
Magnetic Weights Clamps

(Spartacus)

Barracuda type clamps with magnetic weights that allow for adjusting the weight in 1 oz. increments. Comes with 6 weights or 3 per clamp. (illustration shows additional weights, not available)