On This Page:
[Up]
Categories:
[Blindfolds]
[Gags]
[Tit Clamps]
[Crops n Bats]
[Paddles]
[Whips n Flogs.]
[Men's Chastity Devices]
[Posture Collar]
Major Categories:
[For Him]
[For Her]
[the Dungeon]
[The Book Shelf]
[Special Combinations]
[Anal Toys]
[Bear Figurines]
[Candlesticks]
[Hiatt Darby Restraints]
[Bondage Gear]
[Discipline Gear]
[Police Restraints]
[Choker Chains]
[Locks]
[Snaps and Links]
[Gas Masks]
[Bondage/SM Videos]
modified: 12 August 2012

A collection of gags in rubber and leather, that can be used for BDSM, general discipline, humiliation or for maintaining silence all at economical prices. If a safety word is part of your power exchange play, agree on a body movement for safety.
Ball Gags | Bit Gags | Penis Gags | Locking Gags | Other Gags
---
String or Strap Gags
These gags use a solid rubber, non-painted ball to help maintain silence. We offer a variety of styles. The gags come in a variety of colors (no choice).

The String Ball Gag has a 1¾" ball and a leather thong, simple, effective inexpensive.

Traditional ball leather strap and buckle style gag with a 1¾" ball and ½" wide leather strap. (see the combination strap gag and tit clamps below)
All Rubber Gags
Our ball gags with industrial rubber straps have more give than leather and can be easily cleaned with soap and water. These gags come in two sizes and are designed with some "comfort" in mind, which means a longer scene.
| | |
| --- | --- |
| | The smaller "Gum Saver" gag (1 3/4" ball) has narrow straps at the mouth end to minimize cutting into the gums. |
| | The larger ball gag (2") has an offset strap which allows a deeper placement in the mouth without digging into the corners of the mouth. |
Tantus "Beginner" Ball Gag

A leather and silicon gag with snap-off Velcro closure and a silicone ball gag. The outer mouth piece is contoured to fit comfortably; the 1½" diameter ball is 2½" long. Silicone is odorless and tasteless and can be washed or even boiled for safety. Made in the U.S.A.
Leather Penis Gag

Leather gag with snap-on penis gag (approximately 1½" long, so it's more of a pecker head). Gag has a small hole to allow for breathing, or with a tube or straw, the introduction of liquids. Soft leather straps cinches with a double d-ring "buckle".


Snap-off leather straps with Velcro closure. The penis shaped 2.5 inches long by 1.5 inches wide gag is 100% silicone and is hypoallergenic, and has no smell or taste no taste. The gag can be washed in sink or dishwasher. Available in black or in dark flesh color. Made in the U.S.A.

Heavy rubber bit gag (bit is 5" wide) with nickel plated cheek bars (see side view below. Double layer rubber strap with roller buckle and keeper.
Shown with lined, rubber blindfold.
Also available with a hinged snaffle bit .

Leather "Plug/Ball" Gag

All leather gag with padded mouth area and a 1½" diameter 2" deep leather plug. Highly adjustable head strap locks on (one small black padlock and 3 keys is included). Can be used without the lock as well.
Leather "Stuffer" Gag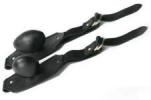 All leather gag with padded mouth gag.. Available in two sizes: small (and a 2¼" wide 2" deep gag) and large (3" wide, 2" deep gag). Highly adjustable leather head straps with D-Ring closure
Breather Gag

Hollow cone shaped gag with industrial rubber straps has more give than leather and can be easily cleaned with soap and water. Hollow design with two breather holes (see photo).
BUY CONE-GAG @ $39.95
Rubber "Open Wide" Gag

Sometimes called a piss gag, this gag has a 1¼" diameter by 1" deep open plug that allows for all sorts of liquids to be supplied. Also good practice for oral sex.
[Back to Top] Ball Gags | Bit Gags | Penis Gags | Locking Gags | Other Gags