On This Page:
[Up]
Categories:
[Blindfolds]
[Gags]
[Tit Clamps]
[Crops n Bats]
[Paddles]
[Whips n Flogs.]
[Men's Chastity Devices]
[Posture Collar]
Major Categories:
[For Him]
[For Her]
[the Dungeon]
[The Book Shelf]
[Special Combinations]
[Anal Toys]
[Bear Figurines]
[Candlesticks]
[Hiatt Darby Restraints]
[Bondage Gear]
[Discipline Gear]
[Police Restraints]
[Choker Chains]
[Locks]
[Snaps and Links]
[Gas Masks]
[Bondage/SM Videos]
modified: 09 January 2013

Our American made leather paddles (from JayPee) come with a steel reinforcing strip in the center to prevent leather fatigue. Easily cleaned and long lasting. Available in laminated and stitched leather or in shiny "patent" finish (slightly thicker and more rounded edges making it easier to hold for some).
note: prices at events can be lower than shown below

Looking for some other type of discipline gear? Check out our riding crops and bats, stingers, flogs and whips, nipple clamps and chastity items.


just click on the navigation button at the left.

The "Thumper" is 1o inches of triple layer, hand hold-able, leather; no need for steel reinforcement as in the paddles below. Hand strap so it doesn't get misplaced during a session. In black leather only.

A leather rendition of the good ol' Fraternity (A) paddle, broader surface than a Slim-Jim and a bit more flexible. 16" long and 31/2" wide.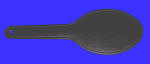 The Ping-Pong (B) paddle is named after what it looks like. Good broad surface with much the some impact as a hand but without the wear and tear on you. 15" long and 5" across.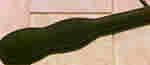 The Shoe-Sole paddle is an interesting variation and the longest of our leather paddles at over 18". About a size 9D.



Slim-Jim, 16+" of metal reinforced leather, very rigid, though not as stiff as a wood paddle. Very easy to hold.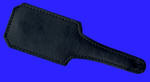 Eight inches (four on the paddle's surface) of very effective paddle, the Pocket Paddle is suitable for close quarters or while on the road. Saves wear and tear on your hand (leather only).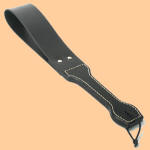 Ok. So it's not exactly a paddle or flog, but very effective nevertheless. The 1/4" thick rubber loop provides a lot of impact and adds the element of sound when it does. The strap is 10 inches of 2½" wide rubber; the thick leather wrapped handle fits well in the hand.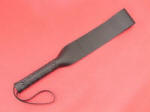 Much lighter in weight than the one above, but very effective nevertheless; less impact, more sting.
The strap is 12" of 2½" wide, thin rubber; easy to hold 1" diameter handle .