We offer a wide variety of ball gags in string, buckle-on in leather and all rubber (see left). We also have bit gags.
---

Adjustable and non-adjustable lined styles.
---
Spandex Hoods, Double Layer Zipper Hood in Leather, Spand-O-Flage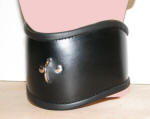 Padded posture collar to force a slave to keep it's head up.


We offer leather and patent leather paddles in six styles and rubber strap paddles.
---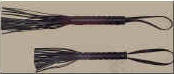 An assortment of whips and flogs in rubber and horse hair (click on any picture).
---
Nipple / Tit clamps can be used by both men and woman. We sell multipe styles of clamps in different chain styles.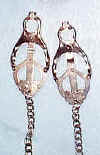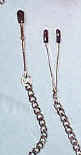 ---
Male Chastity
Prevent a slave's access to his cock or using it (or prevent an full erection) with a variety of male chastity devices including cages, stallion guards and gates of hell.