On This Page:
[Up]
Categories:
[Men's Anal Toys]
[Cock Rings]
[Wide & Donut Cock Rings]
[Ball Harnesses - Stretchers]
[Cock Cages]
[Rubber C&B Gear]
[Tear Drop Cock Rings]
[Ball Weights]
[Erotic Leather Wear]
Major Categories:
[For Him]
[For Her]
[the Dungeon]
[The Book Shelf]
[Special Combinations]
[Anal Toys]
[Bear Figurines]
[Candlesticks]
[Hiatt Darby Restraints]
[Bondage Gear]
[Discipline Gear]
[Police Restraints]
[Choker Chains]
[Locks]
[Snaps and Links]
[Gas Masks]
[Bondage/SM Videos]
modified: 11 August 2013

[wholesale page]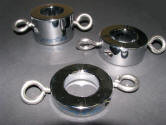 Two piece system with screw closure (allen wrench included). These polished chrome finished steel weights (these are the "imported Jim Diamond Brand) have two eyebolts (removable) that allow adding other weights or cordage, bungee cords, etc. (see right) or a "ball crusher bar (see below).
As the halves completely separate, the weight is carefully closed around the balls. The balls are not pulled through the opening as with a solid ring. This allows the stretcher opening to be smaller (1 3/8 inches) which in turn allows the ball stretching ring to be thicker (and heavier). The wall thickness is 1/2 inches.
The smaller opening means that most men will not be able to remove the stretcher without opening it and it is thus much less likely to "pop"' off. It also means this is two handed operation. In compensation, it is a lot easier to add units to increase the stretch and the weight.
| | | | |
| --- | --- | --- | --- |
| Thickness | ½" | 1" | 1½" |
| Weight | 8 oz | 1 lb. | 1 lb. 7 oz. |
| Price | $36.95 | $51.95 | $56.95 |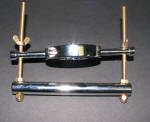 This is an accessory for the Jim Diamond weighted ball stretchers above. (Note: this attachment may not fit other similar ball weights.)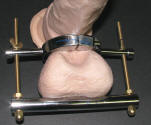 Two bars replace the eyebolts (can be finger tightened or use the included allen wrench) and 3 inch long threaded brass rods are inserted into the holes in the bars. A separate bar can then be positioned to apply pressure to the balls using wing nuts .
An alternate use is to use the bar as a form of cock punishment.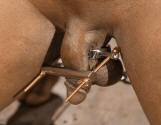 |Split Ball Wgts.| |Ball Crusher|