Other Categories / pages:
Hardware
Canvas & Nylon Bags
Clothing, Etc
Knife Catalog
Softer Side
Pages below this one:
Sunglasses
Bear Figurines
Belt Buckles
Candlesticks
Dust Goggles
EMT Shears
Top Level:
Home
Visitor Comments
Hazardville Pages
HELP / Contact
Search Page
modified: Thursday, June 02, 2005
The Softer Side (non-hardware items) like clothing and hats, shoe polish, sunglasses and other sundries.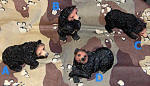 Cold Cast Bear Figurines starting at $3.95
Aviator Style Sunglasses

updated: 11.18.2006

Dust goggles with clear and dark gray plastic lenses; soft rubber gasket for dust-tight fit; will fit over regular glasses.
G.I. surplus only available in clear/gray with black rubber frames.
Imported version available in black, Olive Drab (OD) and Khaki frames.

Black-out Goggles - same as above but with a black, light blocking lens; perfect when you want to get away from it all. (Imported G.I. Style with black frame only);

updated: 03.12.2006

Street caps are great for work details or just lounging at the beach; leather size adjuster (one size fits all); ventilated with extra deep bill;
in Black, Camo, Khaki (tan), Navy Blue and Olive Drab
Other Items

Lincoln, genuine USMC issue shoe polish; staining wax to restore color and cleaning agents to help recondition the leather; in snap top container.
Nylon Boot Laces - 72" long with fused tips; pkg. in pairs 72-LACE $
back to top [ Back ]