Up
Break-Away Ties
Badges and Shields
Embroidered Patches
Handcuffs
Leg Cuffs
Transport Chains
Keys
EMT/EMS Shorts
SWAT Caps
Tactical Riot Gear
Tactical Gear Bags
NYC Apparel
Rain Gear
Sunglasses
Odds and Ends
Knives
Batons
Pro Batons
Monadnock Batons
Store Brand
Detail Pages:
General Pages:
Home
Help Page
Shop by Brand
Primary Catalog
The Professional Shop
Outfitters Pages
Feedback Form
modified: 06 Sep 2008
Odds and Ends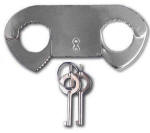 They look like a toy, but these are constructed with the same basic features as regular handcuffs; each side is opened independently and has a double locking mechanism; with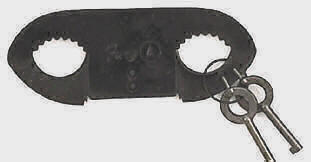 plastic carry case and two "standard" keys. In bright nickel finish or semi-gloss black.
Lock Boxes (Limited Quantities)
Model 7082 BLUE BOX #1
This two piece, transport handcuff unit closes over the handcuffs to cover the keyholes for safer transport; also reduces flexing and provides a gripping point;
made from reinforced ABS and steel.
This unit needs to be used with economy belly chain

or with leather strap;


Model 7082 BLUE BOX #2
This is the first transport box to be specifically made to convert a set of hinged handcuffs into rigid handcuffs. The box covers the keyholes and allows double locking to be accomplished after application to the individual. The unit can be used in conjunction with the economy belly chain

or alone if padlock is used.
| | |
| --- | --- |
| | one-piece construction |
| | made from high quality steel; plated to resist corrosion |
| | fits over most brands of hinged handcuffs |